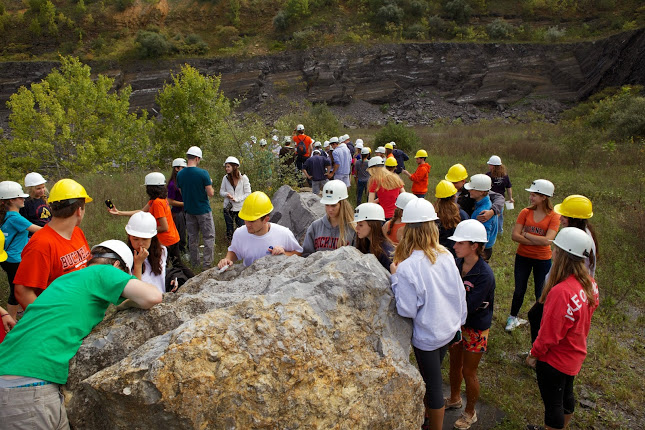 The Res Colleges offer students the opportunity to live with other students who have similar interests.  This "living-learning" environment combines numerous social events with a first year foundation seminar.  Our goal is to weave together academic and social threads of university life, which in turn can create meaningful friendships among students.  Whether you intend to major in English or Engineering, you will meet students and faculty who share varied perspectives on a common theme.
Past participants say the got to know more students, in a shorter period of time, and they consider the program to be a hallmark of their Bucknell experience. They are more likely to participate in service-learning opportunities, learn something that's changed the way they understood a topic, work with faculty on projects outside of coursework, and talk to faculty about ideas and careers plans.
"Res College was truly an awesome experience! Not only did I make some of my closest friends while building a sense of community during class and field trips, but I was given many opportunities, such as taking on a leadership position as junior fellow or joining alumni housing…. If you're unsure about what you want to do, becoming a part of Res College is great for exploring different interests." – Dasha Kostyuchek '19
The Res Colleges offer eight theme-based living and learning environments that combine classroom and co-curricular activities:
Art: Act or draw, build or write; learn to play the Gamelan. Make art or just take it in. Go digital or get historical as you explore the role of the creative imagination in the world at large.
Discovery: Learn how science has changed the world. Participate in hands-on activities. Visit places where breakthroughs have occurred. Appreciate science through the lenses of other disciplines, including history, philosophy, and education.
Environmental: Study the complex scientific, social, political and ethical dimensions of environmental issues. Explore the ecological impact of human activities. Look at successes in sustainable development. Raise awareness about environmental issues. Celebrate the wonder of the natural world.
Global: Take a close look at internationalization, globalization and related themes tied to culture, controversies and solutions. Understand the evolution and contradictions of the modern world. Learn how to initiate change. Challenge your beliefs and look beyond the conventional.
Humanities: Explore a long line of thinkers and writers, from Plato to Dante. Understand literary genres, philosophical traditions, religious expression and much more. Gain an interdisciplinary perspective on topics ranging from the visual arts to scientific texts.
Languages & Cultures:  Understand national and cultural perspectives of non-English speaking countries. Explore the world's cultures. Become skilled in cross-cultural communication. Prepare yourself to make the most of a study abroad experience.
Social Justice: Understand critically the root causes of poverty, racism, sexism, homophobia, religious intolerance and discrimination based on age or ability. Learn to advocate effectively for fairness, respect and inclusion. Overcome obstacles that prevent people from speaking out for social justice.
Society & Technology: Examine the possibilities inherent in technology, along with the ethical, economic and policy challenges that come along with it.  Consider the ways technology contributes to and detracts from society.  Design technological solutions in a creative environment.
To sign up, select the Foundation Seminars coded RESC that interest you. You'll enter your preferred choices in the Course Selection online form, and we'll assign you to a hall with students who are part of the same Residential College.
Meet the student mentors for next year, and read descriptions of the courses on the Res Colleges website