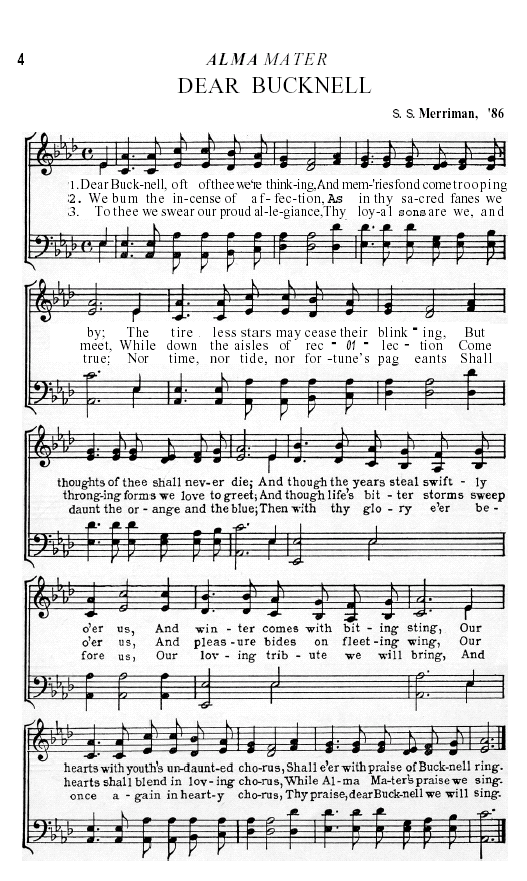 "I named it 'Dear Bucknell'; and, after I'd sat down to the piano and sung it through, I felt confident of its ability to take care of itself and win a welcome wherever good fellows from Bucknell's sacred fanes might congregate."
S.S. Merriman '86 on writing Bucknell's alma mater.
Read the full story of the creation of "Dear Bucknell" here:
http://www.bucknell.edu/Documents/ISR/SpecialCollections/University%20Archives/almamater.pdf
Alma Mater: "Dear Bucknell"
Dear Bucknell, oft of thee we're thinking,
And Mem'ries fond come trooping by:
The tireless stars may cease their blinking,
But thoughts of thee shall never die;
And though the years steal swiftly o'er us,
And winter comes with biting sting,
Our hearts with youth's undaunted chorus,
Shall e'er with praise of Bucknell ring.
We burn the incense of affection,
As in thy sacred fanes we meet,
While down the aisles of recollection
Come thronging forms we love to greet;
And though life's bitter storms sweep o'er us,
And pleasures bide on fleeting wing,
Our hearts shall blend in loving chorus,
While Alma Mater's praise we sing.
To thee we swear our proud allegiance,
Thy loyal sons are we, and true;
Nor time, nor tide, nor fortune's pageants
Shall daunt the Orange and the Blue;
Then with thy glory e'er before us,
Our loving tribute we will bring,
And once again in hearty chorus,
Thy praise, dear Bucknell we will sing.