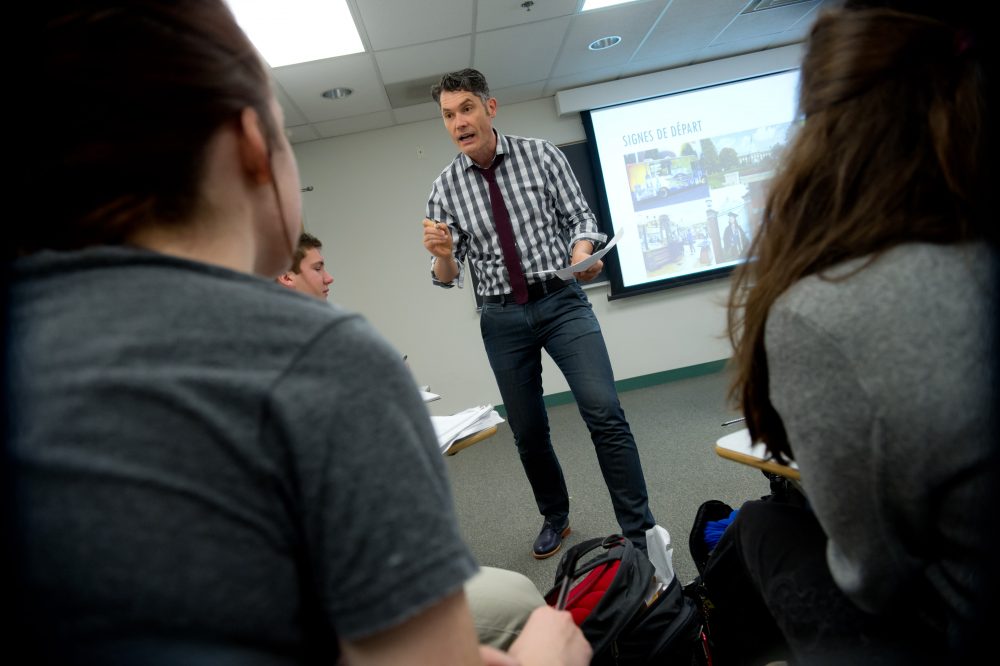 What does it look like to study French at Bucknell? Sabine Sellers '17 and Haley Brown '18 (who are both double majors in French and History) share their thoughts and experiences.
Why did you choose your major?
Sabine:
French was something I more or less stumbled into. I started French in high school because my mother speaks a bit of it, and I figured that she would be able to help me learn the grammar. Despite the dreaded grammar lessons, I discovered that I enjoyed learning the language even if wasn't all that great at it (my grammar is still my Achilles Heel). When I came to Bucknell, I thought I would shoot for a minor if I had the time, but then after my first French class, I met with my professor who told me about the Bucknell en France program. I was hooked, though I still was not interested in the major. Later my sophomore year, I found myself in another class with that same professor, still thinking I would stick to the minor, but then as I filled out my Declaration of Major form, I thought "why not?", and Professor Connors came back from a conference to find out that he had a new advisee.
Haley:
I chose French as a major because I think it is very important to learn a second language. I have always had an interest in the culture and the sound of the language, and I think linguistics are very interesting and open doors.
What has been one of your favorite classes so far and why?
Haley:
I have really enjoyed almost all of my classes. I take things I'm interested in, without exception (unfortunately this means I have quite a few requirements to catch up on!). I don't think I can really chose a favorite class, but I really enjoyed 101 and 102 with Professor Renck. I think this was because I was new to the language as well as Bucknell, and she was getting used to it too as a new professor so it was great to be in her class and feel like we were figuring things out together. In addition our 101 and 102 classes had a lot of repeat students, and we had a good community and relationship with our TA.
Sabine:
French 330—Memory and Commemoration. The course was absolutely incredible first, because Professor Gosson is one of the most incredible teachers I have ever had the privilege of working with, and second, because the classroom setting was tightly knit with only seven students. With the small class size, my classmates and I were able to question each other, and Mme. Gosson even invited us to her home for a dinner, which is one of my favorite Bucknell memories. We were given free reign, as long as it was pertinent, to choose our research topics for our semester long project. I fell in love with my topic so much, that I am continuing it with summer research and pursuing an honors thesis in my senior year.
How would you describe your classes?
Sabine:
The courses build on themselves, and I find that every year I am more capable of handling situations that I may not have been able to in early semesters. Without a doubt, you will work hard, but it is incredibly rewarding when at the end of the semester you get to see how far you have come and how much you have learned.
How would you describe your faculty?
Haley:
The French department has been absolutely wonderful. Their enthusiasm to encourage me to dedicate myself to French has been fantastic. They offer me assistance outside the classroom and have been so very helpful with setting up a plan for me to go abroad for the entire year in Tours this upcoming fall. You can tell they take great joy in sharing French culture with students who have never experienced it. I have had the pleasure of taking classes with Professors Renck, Gosson, and Dupont, and all three women are just wonderfully strong presences who challenge their students not just to learn French but to utilize it to discuss and explore current and important topics.
Sabine:
The Professors in the French department are some of the kindest, wittiest, and hardest working people that I have ever met. Every professor that I have taken a class with, and even those that I have not, genuinely wants the best for their students, and they do everything that they can to help them reach their full potential – all the while having fun. They never hesitate to meet with students after class, explain material when it does not make sense, help with extra programs or activities, or encourage students to reach for goals that they may not have thought possible. I never even considered that I would be a French major, receive a grant for research, or attempt an Honors Thesis, but the professors in the French department saw something in me that I could not see myself, and they pushed me to become a better student than I ever believed possible.
What do you plan to do with this degree in the future?
Sabine:
Before this year, I wanted to become a Physical Therapist but because of my experience with study abroad with the Bucknell en France program and my research opportunity at Bucknell, I am thinking about pursuing graduate school and becoming a professor. This would be a huge career change, but Bucknell has prepared me for both options and, in the meantime, I plan to apply for a yearlong teaching program in France for the year following graduation.
Haley:
In the future I hope to go to graduate school in a francophone location where I can get my doctorate in history and utilize my French (who knows my focus may end up being French history). Right now, the ideal situation for me would be to try to become a professor, but it's likely that new interests will become apparent to me as I continue to pursue history and French, especially when I go abroad next year
Interested in learning more about French and Francophone studies?
French and Francophone Studies
Faculty Profile: Philippe Dubois