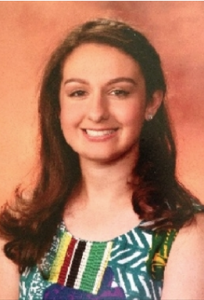 What does it look like to study Art and Art History at Bucknell?
Danielle Retcho '17 (who majoring in Art History is on the Pre-Med Track) shares her thoughts and experiences.
Why did you choose your major?
I became interested in art history in high school and I thought that it would be something awesome to study in college. As a pre-med student with hopes of going to medical school, I wanted to stand out and do something that I loved. There are so many skills and important things to learn from art history that I believe I am more well- rounded than I would be if I only focused on science courses.
What has been one of your favorite classes so far and why?
Within the art history major, my modern art class featuring art from 1850-1915 has been my favorite. It was one of the first art history classes that I took at Bucknell and it provided me with a great foundation for what was to come. I had many rigorous writing assignments for this class and those taught me how to properly write for the discipline. Additionally, this class cemented my love of modern art because of its abstraction, expressionism and bold colors.
How would you describe your classes?
The art history classes have been very engaging and provide me with a chance to explore many different artistic traditions. The research and writing skills I have learned through my major have helped me in all of my classes. I have also learned how to use WordPress, edit Wikipedia pages and create an online museum catalog.
How would you describe your faculty?
The art history department faculty are incredibly supportive and truly want their students to succeed. They are very helpful both inside of the classroom and in  providing guidance for future study.
What does a normal day or week look like in the art/art history department?
Art history classes typically meet two days a week for an hour and a half each day. In between there are reading and writing assignments. We typically go to the Samek Art Museum a few times throughout the semester to see works in our collection that relate to our studies and write or make videos about how they relate to the material we are learning. Additionally, each semester there is a trip to the Metropolitan Museum of Art in New York to see the art that we have been studying. These trips are typically related to a short writing assignment or to a larger research paper.
What do you plan to do with this degree in the future? (Could be internship, graduate work, or career related)
I am hoping to go to medical school after graduation and I know that I will continue to use all of the skills that I have learned from art history–how to analyze complex visual and textual information and how to write with clarity and precision.