The Counseling & Student Development Center (CSDC) is located in the newly constructed Graham Building. Read below for some facts about the CSDC and about your transition to college!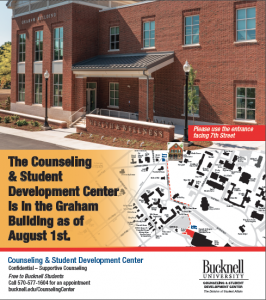 The Counseling & Student Development Center (CSDC) website offers creative ideas for taking care of yourself. Self-help is all about helping or improving yourself. There are many different ways to engage in self-help activities – including meditation, exercise, breathing, being mindful, and educating yourself – check out our site to find strategies that work for you.
While you're getting ready for the big move to campus, keep in mind that mental health is a key part of your overall well-being. Maintaining emotional balance can take some work, especially during times of transition. Taking care of yourself and thinking proactively about what supports you may need are key ingredients for success.
The CSDC site also offers free mental health screenings, which are a quick way to determine if you or someone you care about should connect with a mental health professional. The screenings take just a few minutes and are completely anonymous and confidential.  At the end you get information about your results and next steps for seeking support.
College can be an exciting time. Transition from home to college often triggers an array of thoughts and emotions. Though it is normal, change can be stressful. Identifying support resources is crucial for first-year students. Follow this link for tips to manage college transition: http://transitionyear.org/